Annual and Testing
Cal-OSHA requires all buildings over 48' or over four stories be inspected annually to ensure all rooftop building maintenance equipment is safe for use by contractors. If you have rooftop anchors or a permanent installation on your building…you are required to have a Certificate of Written Assurance at least every 12 months.
DOSH General Industry Safety Orders (GISO) Title 8, Article 5, Section 3282(p)(1)(A) and (p)(2) state
"Building owners shall provide the employer written assurance, before use, that all their building's safety devices and equipment meet the provisions of these orders. The written assurance shall consider, but not be limited to: window anchors and fittings; load sustaining capabilities of platforms, building components, hoisting and supporting equipment…"
"Each installation shall undergo a periodic inspection and test at least every 12 months by the equipment manufacturer, authorized representative, or other qualified person acceptable to the Division. All parts of the equipment, including related building support structures, shall be inspected, and where necessary, tested to determine that they are in safe operating condition."
"Maintenance inspection and, where necessary a test shall be made of each platform installation prior to the start of a work cycle and where the work cycle is more than 30 days, such inspection and/or test shall be made at least every 30 days during the work cycle. This inspection and test shall follow procedures recommended by the manufacturer, and shall be made by a qualified person.
"The building owner shall keep a certification record of each inspection and test performed under subsection (c)(1) of this section. The certification record shall include the date of the inspection and test, the signature of the person who performed the inspection and/or test, and an identifier for the platform installation which was inspected. The certification record shall be kept readily available for review by the Division and by the employer."
Inspection and Tests Title 8, Article 6. Section 3296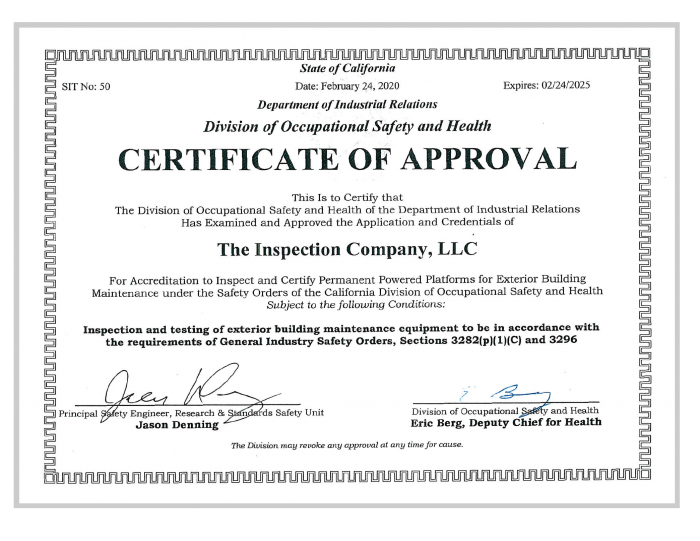 The Inspection Company (TIC) is SIT #50 Certified by Cal-OSHA and its owners have been in the exterior building services industry for over 40 years. Experts in all facets of high-rise access, TIC is your partner in rooftop safety and compliance. Our detailed inspections include structurally secure anchors, tiebacks, davits, hoists, guardrails, structural integrity, stability, components, defects, and all fall arrest systems.
TIC provides:
Annual Written Assurance
Pre-Use Inspections

30-day Test and Inspection